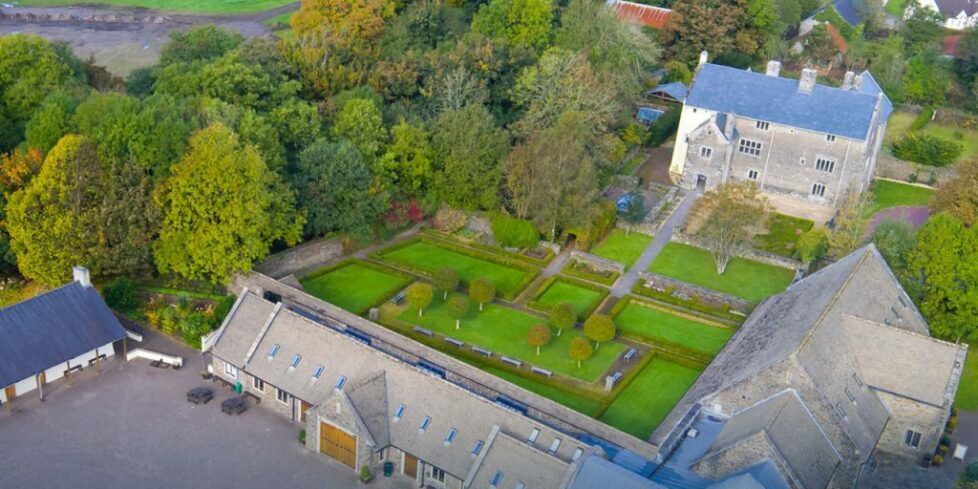 I'm so excited to be hosting monthly Yoga workshops, open to all stages of menopause and a variety of other Well-being workshops at this historical ancient venue.
Yoga with Geri at the Manor
The original Llancaiach Fawr Manor house was built in 1550 and is said to be haunted. Guided tours of the Manor and Ghost Tours are available to book. I highly recommend both as you are greeted by costumed interpreters and are transported back in time to the early 1600 hundreds and the rein of King Charles I.
There is also dining available in the Lounge or Conservatory depending on availability with stunning views of the Welsh countryside. The Cafe is open from 10am – 4pm with hot meals served until 2pm. The Lunch Menu includes freshly made sandwiches, jacket potatoes, homemade cakes and a variety of hot meals.
Sunday Lunch can be pre-booked between 12 – 2pm every Sunday and offers a choice of two or three courses, main course is served carvery style. Afternoon Tea is also very popular and available to pre-book.
Llancaiach Fawr, Nelson, CF46 6ER
Our workshops will take place in the Education Block, with free car parking in the nearby overflow car park.
Complimentary refreshments, tea and coffee will be available on arrival at the Education Block. Weather permitting we will also enjoy a 'Walk for Well-being' in the gardens.
Date
Morning Session 9.00am – noon
Afternoon Session 1.15pm – 4.15pm
Sunday 9 Jan 2022
🌺 Yoga for Menopause –
Anger, Anxiety & Overwhelm
🧘🏼‍♀️Hatha Yoga – Yoga for Winter Wellbeing
Saturday 5 Feb 2022
🧘🏼‍♀️Hatha Yoga – Yoga & Chakras
🌺 Yoga for Menopause – Insomnia & Fatigue
Saturday 5 Mar 2022
🧘🏼‍♀️Hatha Yoga – Yoga, Meditation & Mindfulness
🌺 Yoga for Menopause – Hot Flushes & Night Sweats
Sunday 12 June 2022
🌺 Yoga for Menopause – Bone, Heart & Muscle Strength
🧘🏼‍♀️Hatha Yoga – Yoga Summer Wellbeing
Sunday 3 July 2022
🧘🏼‍♀️Hatha Yoga – Yoga & Ayurveda
🌺 Yoga for Menopause – Low Mood, Lethargy & Sluggish Digestion
Each 3 Hour Workshop is available to book for  £30 per person or £50 for the whole day (two workshops) on the same day.
Menopause Yoga Workshop
Our first Menopause Yoga Workshop is open to all stages of menopause and will focus on Anger, Anxiety & Overwhelm.
Menopause Yoga™ founded and created by Petra Coveney is based on different styles of practices focusing on the many symptoms of menopause and includes:
yoga
breathwork
meditation
women's circles
journal writing
information on signs and symptoms of menopause
treatment options
nutrition
complimentary therapies
Hatha Yoga Workshop
Yoga for Winter Well-being Workshop includes:
90 minute Hatha Yoga
30 minute Meditation/Mindfulness
Walk for Well-being/Nature Bathing
30 minute Yoga Nidra (psychic sleep – deep, restorative relaxation
What My Students Say
I saw Geri's yoga workshop advertised after a friend shared it on Facebook, was a bit dubious at first at going on my own, but needn't have worried as Geri is very friendly and makes everyone feel at ease and welcome in her yoga classes.  Llancaiach Fawr is a lovely quiet venue, perfect for yoga. 
I have since also joined her weekly yoga class, she really is that good! She explains every move and the benefits behind it, her classes are suitable for all levels. 
Geri thank you so much for this morning. I enjoyed every minute. I am not brilliant at relaxation because I get restless which did not happen today. Please book me in for the next session!
Aura Yoga with Geri classes are very popular due to Geri's delivery, knowledge and expertise. She addresses everyone's individual needs as well as whole class awareness.
Her relaxed sessions are enjoyed by all and have been a big part of my life, helping my physical and mental welfare. 


I am still an active seventy-five-year-old thanks to attending Geri's classes gaining strength, balance, flexibilty and mindfulness. This has enabled me to gain a good quality of life and also continue playing golf to a good standard.
I feel proud to be one of her respected Yoga Family and wish her continued success as a Yoga Teacher.
How to Book
If you would like to book please complete and submit the new student questionnaire using this link.
I will process your booking and send payment details, COVID-19 Policy and further details upon receipt of £10 non-refundable deposit.
I look forward to welcoming you soon in 2022.
Please note: These dates are subject to change based on Welsh Government guidelines.
YOGA SHORT COURSES
MENOPAUSE YOGA, LLANCAIACH FAWR
HATHA YOGA, LLANCAIACH FAWR
PREGNANCY YOGA (IN-PERSON)
POST-NATAL YOGA (IN-PERSON) COURSE DATES
If you have not joined my yoga sessions before, please complete a British Wheel of Yoga Health Questionnaire here before your first session.
Please let me know before class if this is your first yoga class or if you are not confident about your experience and/or yoga ability. We can also have a chat about any health issues that may impede your yoga practice.